Last updated 02 January 2017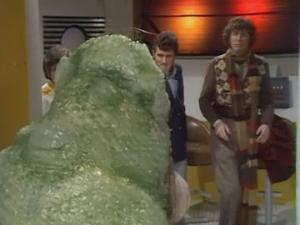 Broadcast: Saturday 22nd March 2003
11:35pm-12:00am CST
(05:35 GMT)
<
>
«
»
Iowa Public TV
Featuring: Tom Baker, Ian Marter, Elisabeth Sladen, Kenton Moore, Wendy Williams
The Doctor subjects himself to a dangerous experiment so that he can access the memories of the dead Wirrn Queen. Elsewhere, the larvae Wirrn are pupating into their adult form.
Synopsis Source: Doctor Who Guide
Broadcast Source: TWiDW
Report from the This Week in Doctor Who Archive:
Wednesday 19th March 2003:
IPTV Iowa
http://www.sffn.com
http://www.iptv.org
analog 11,12,21,24,27,32,32,36,36
digital 50-1,
(45),(25),(18),(28),(33),(35),(35),(34)
Des Moines Dish Local 9116,11
Omaha, NE Dish Local 9146,32
Cedar Rapids Dish Local 9161,12
Sat 11:35PM CST The Ark In Space pts 3+4 of 4
Noah finds himself turning into the Swarm Leader of the Wirrn, as they plot to take control of the Ark and use the sleeping humans as a food supply.