Last updated 02 January 2017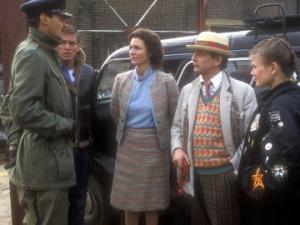 Broadcast: Saturday 19th October 2002
11:35pm-12:00am CDT
(04:35 GMT)
<
>
«
»
Iowa Public TV
Featuring: Sylvester McCoy, Sophie Aldred, Dursley McLinden, Pamela Salem, Simon Williams
In Shoreditch, 1963, the Doctor's past begins to catch up with him… At the Totter's Lane junkyard where his adventures began, an old terror is returning.
Synopsis Source: Doctor Who Guide
Broadcast Source: TWiDW
Report from the This Week in Doctor Who Archive:
Wednesday 16th October 2002:
IPTV Iowa
http://www.sffn.com
http://www.iptv.org
analog 11,12,21,24,27,32,32,36,36
digital 50-1,
(45),(25),(18),(28),(33),(35),(35),(34)
Sat 11:35PM CDT Remembrance of the Daleks pts 1+2 of 4
Daleks begin killing people in London in November 1963, a time when humans haven't heard of the metallic monsters. The 7th Doctor knows why the creatures are around, and he's not talking.