Last updated 02 January 2017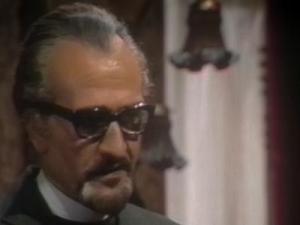 Broadcast: Sunday 31st October 2004
12:30am-1:00am PDT
(07:30 GMT)
<
>
«
»
KBTC
Featuring: Jon Pertwee, Nicholas Courtney, Katy Manning, Roger Delgado, Richard Franklin, Damaris Hayman, John Levene
The Doctor attempts to help the Brigadier penetrate the heat barrier, but is attacked by the Master's servant in a helicopter. The Master prepares to summon the Daemon Azal.
Synopsis Source: Doctor Who Guide
Broadcast Source: TWIDW
Report from the This Week in Doctor Who Archive:
Wednesday 27th October 2004:
KBTC/KCKA Tacoma/Centralia, WA
http://www.kbtc.org
analog 28,15
digital 28-1 (27-1), 15-1 (19-1)
Seattle DirecTV 28,910
Seattle Dish 28,8620
Saturday 7PM + 12:30AM PDT The Dæmons eps 3,4,+5 of 5 (note 3 episodes this week)
Series 8, Episodes 23 through 25. Doctor:
Jon Pertwee
. The Master has raised Azal the Daemon in hopes that Azal will give power over the Earth to him. The village where this is happening has been cut off from the rest of the world, though the Doctor hopes to get U*N*I*T in somehow. Can the Master get others to do his dirty work through Morris Dancing?