Last updated 02 January 2017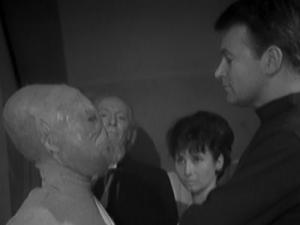 Broadcast: Sunday 21st September 2003
12:30am-1:00am PDT
(07:30 GMT)
<
>
«
»
KBTC
Featuring: William Hartnell, Carole Ann Ford, Jacqueline Hill, William Russell, Lorne Cossette, Stephen Dartnell, Joe Greig, Ilona Rogers, Ken Tyllsen
The Sensorites take the Doctor, Susan, Ian and members of the spaceship crew down to the surface of the Sense-Sphere. There the Doctor learns about a previous Earth expedition...
Synopsis Source: Doctor Who Guide
Broadcast Source: TWIDW
Report from the This Week in Doctor Who Archive:
Wednesday 17th September 2003:
KBTC/KCKA/K65BU Tacoma/Centralia/Gray's River, WA
http://www.kbtc.org
analog 28, 15, 65
digital 28-1 (27-1),
19*
Seattle DirecTV Local 12,910
Seattle Dish Local 28,8620
Sat 7PM, Late Sat 12:30AM PDT The Sensorites: Hidden Danger ep 3 of 6
Sat 7:30PM, Late Sat 1AM PDT The Sensorites: A Race Against Death ep 4 of 6
The Doctor, Ian, and Susan travel to the Sense Sphere to investigate the plague that endangers the Sensorite people. But one of the TARDIS crew will also fall victim, raising the stakes.