Last updated 02 January 2017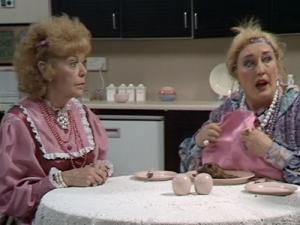 Broadcast: Saturday 22nd March 2003
7:30pm-8:00pm PST
(03:30 GMT)
<
>
«
»
KBTC
Featuring: Sylvester McCoy, Bonnie Langford, Julie Brennon, Richard Briers, Brenda Bruce, Howard Cooke, Judy Cornwell, Elizabeth Spriggs
With the Doctor condemned to death by the caretakers and their bizarre rulebook, Mel faces cannibalistic OAPS. Is Pex going to be the true hero of Paradise Towers?
Synopsis Source: Doctor Who Guide
Broadcast Source: TWIDW
Report from the This Week in Doctor Who Archive:
Wednesday 19th March 2003:
KBTC/KCKA/K65BU 28,15,65 Tacoma/Centralia/Gray's River, WA
http://www.kbtc.org
analog 28,15,65
digital (27),(19) - under construction
Seattle DirecTV Local 12,910
Seattle Dish Local 8620,28
Sat 7PM, Late Sat 12:30AM PST Paradise Towers pts 1+2 of 4
Society has broken down at Paradise Towers. The parents are gone. The children are gangs. The police are insane. The grannies are overly desirous of attention and company. And a basement terror lurks with plans to kill them one by one. The 7th Doctor and Mel must save the Towers from its own phobias and neurocies.