Last updated 02 January 2017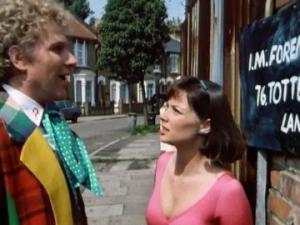 Broadcast: Sunday 27th October 2002
12:30am-1:00am PDT
(07:30 GMT)
<
>
«
»
KBTC
Featuring: Colin Baker, Nicola Bryant, David Banks, Maurice Colbourne, Brian Glover, Michael Kilgarriff
The Cybermen are hiding in the London sewers and turning humans into cybernetic slaves. On Telos, two slaves make a bid of freedom and find a way to escape the planet for good.
Synopsis Source: Doctor Who Guide
Broadcast Source: TWIDW
Report from the This Week in Doctor Who Archive:
Wednesday 23rd October 2002:
KBTC/KCKA/K65BU 28,15,65 Tacoma/Centralia/Grays River, WA
http://www.kbtc.org
analog 28,15,65
digital (27),(19) - under construction
DirecTV 12,910 Dish 8620,28
Sat 7PM, Late Sat 12:30AM PDT Attack of the Cybermen 4 pt version, pts 1+2
An alien distress signal brings the 6th Doctor and Peri to 76 Totters Lane in London in 1985. A former enemy of the Doctor has sent off a request for a ride off the planet - to the Cybermen!