Last updated 02 January 2017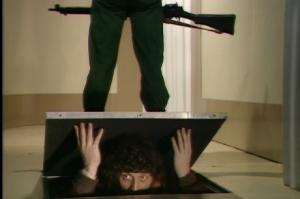 Broadcast: Sunday 28th April 2002
~11:00pm CDT
(~04:00 GMT)
<
>
«
»
Lakeland Public Television
Featuring: Tom Baker, Ian Marter, Elisabeth Sladen, Peter Miles, Michael Wisher
The Doctor informs the Kaled government of Davros's experiments and they move to shut down the bunker. But Davros is one step ahead and prepares to take drastic action.
Synopsis Source: Doctor Who Guide
---
Broadcast notes:
Date estimated, the series was known to have started in January 2002 with Robot and included Pyramids of Mars as a pledge special. First known episode is Genesis of the Daleks: Part Four/4 May 2002.
Broadcast Source: TWiDW