Last updated 02 January 2017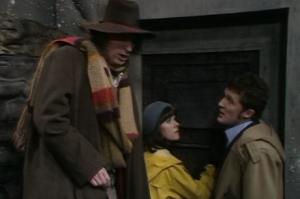 Broadcast: Sunday 14th April 2002
~11:00pm CDT
(~04:00 GMT)
<
>
«
»
Lakeland Public Television
Featuring: Tom Baker, Ian Marter, Elisabeth Sladen, Peter Miles, Michael Wisher
The Time Lords send the Doctor, Sarah and Harry to Skaro at a point in time shortly before the creation of the Daleks. The Doctor's mission is to destroy his greatest enemy.
Synopsis Source: Doctor Who Guide
---
Broadcast notes:
Date estimated, the series was known to have started in January 2002 with Robot and included Pyramids of Mars as a pledge special. First known episode is Genesis of the Daleks: Part Four/4 May 2002.
Broadcast Source: TWiDW