Last updated 02 January 2017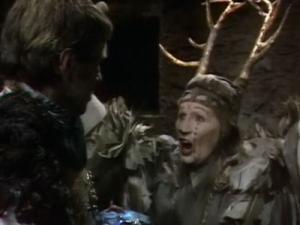 Broadcast: Saturday 26th January 2002
11:00pm MST
(06:00 GMT)
<
>
«
»
KUED
Featuring: Tom Baker, John Leeson, Mary Tamm, Iain Cuthbertson
Pursued into the catacombs by the Graff and attacked by the ferocious Shrivenzale, the Doctor and Romana struggle to stay alive and find the first segment of the Key to Time.
Synopsis Source: Doctor Who Guide
Broadcast Source: TWiDW
Report from the This Week in Doctor Who Archive:
Friday 25th January 2002:
KUED/KUES Salt Lake City/Richfield, UT
http://www.kued.org/
analog 7,39 digital
KUED-DT 42 Salt Lake City, UT
DirecTV Salt Lake City Local 982/7
Dish Network Salt Lake City Local 8536
Sat 11PM, Late Sat 12:30AM MST The Ribos Operation ep 4 of 4
Jethryk, Jethryk - who has the Jethryk? The 4th Doctor, Romana, K-9, and two friendly crooks must keep the Jethryk out of the hands of the evil Graff Vynda-K. The Graff Vynda-K has no relation to Special K cereal, K-Mart, Kay Jewelers, etc., so don't ask.