Last updated 02 January 2017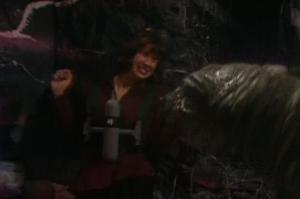 Broadcast: Saturday 19th June 2004
11:00pm-11:30pm EDT
(03:00 GMT)
<
>
«
»
MiND
Featuring: Colin Baker, Nicola Bryant, David Chandler, Paul Darrow
The Borad accepts no opposition and enables Maylin Tekker to expose the rebels and trap Peri with the Morlox. The Doctor tries to avert a war between Karfel and the Bandrils.
Synopsis Source: Doctor Who Guide
Broadcast Source: TWiDW
Report from the This Week in Doctor Who Archive:
Wednesday 16th June 2004:
WYBE Philadelphia, PA
http://www.wybe.org
analog 35
digital 35-1 (34-1)
Philadelphia DirecTV 35,909
Philadelphia Dish 35,8162
Saturday 11PM EDT Timelash 4 ep version, pts 3+4
Series 22, Episodes 11a through 11b. Doctor:
Colin Baker
. The 6th Doctor and Herbert find that they must lead the Karfelons in a revolt against the Borad. Meanwhile, Peri finds herself the victim of a rather explosive marriage ceremony. Will a Morlox be a victim of the King Kong trap?