Last updated 02 January 2017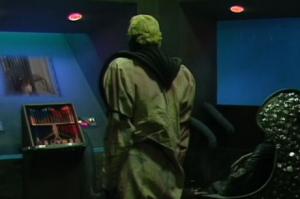 Broadcast: Saturday 12th June 2004
11:30pm-12:00am EDT
(03:30 GMT)
<
>
«
»
MiND
Featuring: Colin Baker, Nicola Bryant, David Chandler, Paul Darrow
As rebellion grows on Karfel, the Maylin's daughter Vena falls into the Timelash while protecting a rebel. She is drawn into the TARDIS as it travels through a Kontron time tunnel.
Synopsis Source: Doctor Who Guide
Broadcast Source: TWiDW
Report from the This Week in Doctor Who Archive:
Wednesday 9th June 2004:
WYBE Philadelphia, PA
http://www.wybe.org
analog 35
digital 35-1 (34-1)
Philadelphia DirecTV 35,909
Philadelphia Dish 35,8162
Saturday 11PM EDT Timelash 4 ep version, pts 1+2
Series 22, Episodes 10a through 10b. Doctor:
Colin Baker
.
On the planet Karfel, a regime of terror has removed all mirrors, spies on everyone, and tosses dissidents through a Timelash to almost certain doom. When the TARDIS comes up the Timelash, the Karfelians get hope of salvation, while the government thinks they have a new pawn in a game of chicken between ultimate power and certain death.