Last updated 02 January 2017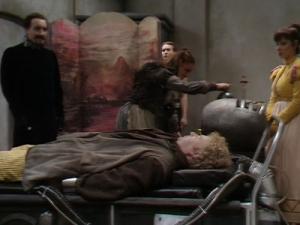 Broadcast: Saturday 29th May 2004
11:30pm-12:00am EDT
(03:30 GMT)
<
>
«
»
MiND
Featuring: Colin Baker, Nicola Bryant, Anthony Ainley, Terence Alexander, Kate O'Mara
People cannot sleep in the town of Killingworth and the Doctor realises it is the work of a renegade Time Lord, the Rani, who has teamed up with the Master to cause chaos
Synopsis Source: Doctor Who Guide
Broadcast Source: TWiDW
Report from the This Week in Doctor Who Archive:
Wednesday 26th May 2004:
WYBE Philadelphia, PA
http://www.wybe.org
analog 35
digital 35-1 (34-1)
Philadelphia DirecTV 35,909
Philadelphia Dish 35,8162
Saturday 11PM EDT The Mark of the Rani 4 ep version, pts 1+2
Series 22, Episodes 5a through 5b. Doctor:
Colin Baker
.
Interference from a TARDIS sends the 6th Doctor and Peri to the wrong part of England, where the Industrial Revolution is being interfered with. The locals are more restless than usual, a danger to anyone who discusses technology.