Last updated 02 January 2017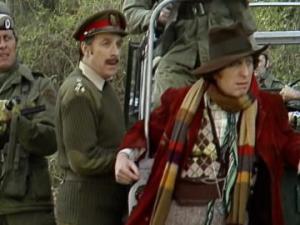 Broadcast: Saturday 22nd December 2001
11:00pm-11:30pm EST
(04:00 GMT)
<
>
«
»
MiND
Featuring: Tom Baker, Nicholas Courtney, Ian Marter, Elisabeth Sladen, Patricia Maynard
Sealed inside an underground bunker, Miss Winters issues her demands to the world's leaders, threatening a devastating nuclear strike if her demands are not met.
Synopsis Source: Doctor Who Guide
Broadcast Source: TWiDW
Report from the This Week in Doctor Who Archive:
Friday 21st December 2001:
WYBE 35 Philadelphia, PA
http://www.wybe.org/
DirecTV Local 909 effective 12/27/01
Dish Network Local TBA effective 1/1/02
Sat 4AM+5:30PM EST Robot eps 1+2 of 4
Sat 11PM EST Robot eps 3+4 of 4
The 4th Doctor's first adventure concerns a 7 foot tall robot being manipulated to steal nuclear plans and info, leaving death and destruction in its path. Who would use a robot for evil? (Ok - who wouldn't?) But who would have such a convoluted plan and access to such a machine? The Doctor tries to track down the culprits before nuclear war begins - or the robot develops a will of its own.