Last updated 02 January 2017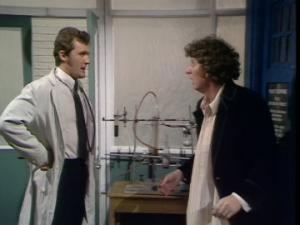 Broadcast: Saturday 15th December 2001
11:00pm-11:30pm EST
(04:00 GMT)
<
>
«
»
MiND
Featuring: Tom Baker, Nicholas Courtney, Ian Marter, Elisabeth Sladen, Patricia Maynard
UNIT are called in when top secret plans and valuable equipment is stolen from high security establishments. The newly regenerated Doctor suggests that the thief may not be human.
Synopsis Source: Doctor Who Guide
Broadcast Source: TWiDW
Report from the This Week in Doctor Who Archive:
Friday 14th December 2001:
WYBE 35 Philadelphia, PA
http://www.wybe.org/
Sat 4AM+5:30PM EST Survival eps 2+3 of 3
The final episodes of the original series. The 7th Doctor and Ace try to get all the surviving humans back to Earth. But the price of success may be one of their souls.
Sat 11PM EST Robot eps 1+2 of 4
WYBE
is skipping the 1st, 2nd, +3rd Doctors, going straight to the 4th. The new Doctor is called on to find out why top secret materials are being stolen throughout England.