Last updated 02 January 2017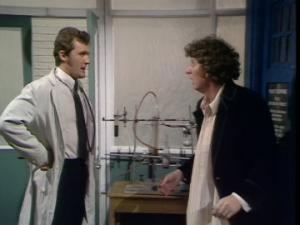 Broadcast: Saturday 2nd April 2016
10:00pm-11:30pm CDT
(03:00 GMT)
>
»
WYCC
Featuring: Tom Baker, Nicholas Courtney, Ian Marter, Elisabeth Sladen, Patricia Maynard
The theft of a secret weapon leads the Doctor (Tom Baker) to a confrontation with a giant robot. Stewart: Nicholas Courtney. Sarah: Elisabeth Sladen. Robot: Michael Kilgarriff.
Synopsis Source: WYCC website schedule listing
The episodes have been distributed in production order and not broadcast order, hence Robot, The Sontaran Experiment, The Ark In Space, Revenge of the Cybermen, and Genesis of the Daleks!
Broadcast Source: WYCC