Last updated 02 January 2017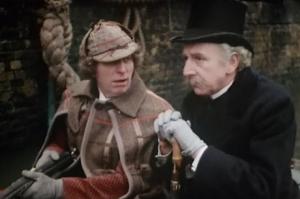 Broadcast: Saturday 19th December 2015
9:00pm-9:30pm CST
(03:00 GMT)
<
>
«
»
KPTS
Featuring: Tom Baker, Louise Jameson, Trevor Baxter, Christopher Benjamin, John Bennett
The Talons of Weng-Chiang," Part 3. Leela is captured by the phantom of the Palace Theatre. Dr. Who: Tom Baker. Li H'sen Chang: John Bennett. Weng-Chiang: Michael Spice. Litefoot: Trevor Baxter.
Synopsis Source: KPTS website schedule
---
Broadcast notes:
Episode was pre-empted over the previous weeks due to pledge season, including Starlight Ballroom (12th).
Broadcast Source: KPTS