Last updated 02 January 2017
Visit Broadcast Link
Broadcast: Saturday 21st November 2015
8:10pm-9:00pm GMT
<
>
«
»

<
>
«
»
(actually broadcast at 20:10:25)
BBC One
Featuring: Peter Capaldi, Jenna Coleman, Robin Soans, Joivan Wade, Maisie Williams
Reunited with their old friend Rigsy, the Doctor and Clara delve into an alien world hidden on a London street. What are some of the most fearsome creatures in the universe doing there?
Synopsis Source: Radio Times
Broadcast Source: BBC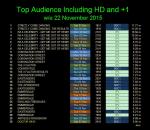 Ratings Information:
Initial figures:
4.420m viewers (overnight), 19.6% audience share, 5th place day
Consolidated figures:
6.055m viewers (+7 days), 23.9% audience share, 30th place - BARB Week Top 10 (channel), AI 84
Additional figures:
6.509m viewers (+28 days)
Overnights: Finals (+7 days): Top for the day was Strictly Come Dancing with an average of 10.3 million watching and peaking at 11.1 million. On ITV The X Factor had an average of 6.8 million viewers, ITV's biggest audience was for I'm a Celebrity, Get me out of here, which had an average of 7.4 million. Pointless Celebrities also scored high with 5.1 million watching, making Doctor Who the 5th highest programme for the day.
Finals (+7 days): Doctor Who was the 10th most watched programme on BBC Television, and 4th overall on Saturday. The episode finished at 30th in the chart.Strictly Come Dancing topped the ratings for the week with 11.77 million viewers. The top ten was dominated by the latest series of I'm a Celebrity, Get me Out of Here taking six of the top ten places.
BARB Reports
BARB Live+VOSDAL: 4.42m; Timeshift+7: 6.055m total; Timeshift+28: 6.509m
BARB Player Report (beta):
w/e 15 Nov: Weekly - 146,560[10th] (iOS 33,024[25th], web 113,536[5th]); 4 Weeks - same figures[unlisted] (iOS unlisted, web[37th])