Last updated 02 January 2017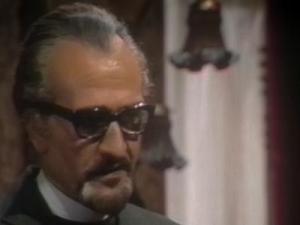 Broadcast: Saturday 17th November 2001
12:17am-12:42am EST
(05:17 GMT)
<
>
«
»
KERA
Featuring: Jon Pertwee, Nicholas Courtney, Katy Manning, Roger Delgado, Richard Franklin, Damaris Hayman, John Levene
The Doctor attempts to help the Brigadier penetrate the heat barrier, but is attacked by the Master's servant in a helicopter. The Master prepares to summon the Daemon Azal.
Synopsis Source: Doctor Who Guide
Broadcast Source: TWIDW
Report from the This Week in Doctor Who Archive:
Friday 16th November 2001:
KERA Dallas, TX
http://www.kera.org/
analog 13, digital 14
Fri 11:52PM CST The Dæmons eps 2+3 of 5
17. The Tel-ly Has Been Turned Off Now
The Poor Re-sear-cher's Dead.
He Tried To Un-lock The Way To
En-ter The Space-ship's Head.
Now A Dae-mon Is A-wake-end
It Roams Through The Land
The Doc-tor Can't Help Save The Day - Ice On His Face And Hand.