Last updated 02 January 2017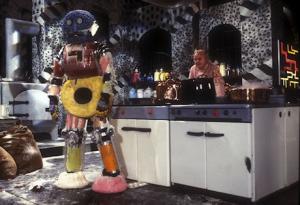 Broadcast: Saturday 6th October 2001
5:30pm-6:00pm EDT
(21:30 GMT)
<
>
«
»
MiND
Featuring: Sylvester McCoy, Sophie Aldred, Lesley Dunlop, Ronald Fraser, Sheila Hancock, John Normington
As the Doctor leads the Pipe People towards reclaiming their world, Helen A faces betrayal from those closest to her and the Kandyman comes to a sticky end.
Synopsis Source: Doctor Who Guide
Broadcast Source: TWiDW
Report from the This Week in Doctor Who Archive:
Friday 5th October 2001:
WYBE 35 Philadelphia, PA
http://www.wybe.org/
Sat 4AM+5:30PM EDT The Happiness Patrol ep 3 of 3
The 7th Doctor, Ace, and a man with a harmonica lead a revolution against the rulers of Terra Alpha. Yes, a harmonica.
Sat 4:30AM+6PM EDT Silver Nemesis ep 1 of 3
Sat 11PM EDT Silver Nemesis eps 2+3 of 3
In the 25th anniversary story, neo-Nazis, Cybermen, an evil 17th Century lady, and a Time Lord from Gallifrey wearing a white suit with an umbrella converge on England on November 22nd, 1988, on what seems suspiciously like a summer day.
» the 4:00am broadcast was reported as actually being Timelash part two!