Last updated 02 January 2017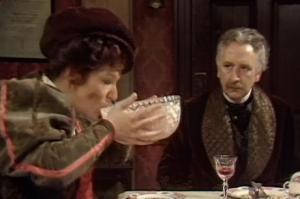 Broadcast: Sunday 24th November 2002
9:39pm-10:04pm PST
(05:39 GMT)
<
>
«
»
KQED Plus
Featuring: Tom Baker, Louise Jameson, Trevor Baxter, Christopher Benjamin, John Bennett
The Doctor and Leela take refuge at the home of Professor Litefoot. But the agents of Weng-Chiang are not far behind.
Synopsis Source: Doctor Who Guide
Broadcast Source: TWiDW
Report from the This Week in Doctor Who Archive:
Wednesday 20th November 2002:
KTEH
/KCAH San Jose/Watsonville, CA
http://www.kteh.org
analog 54,25
digital (50),(58) - under construction
DirecTV 54,903
Tom Baker Preview Pledge Night - 8 to 11PM
Local Line - (408) 795-5454
National Line - (800) 225-5454
All start times are approximate, and episodes could start later.
Sun 8PM PST The Androids of Tara pt 3 of 4
This version of the episode is a KTEH premiere. KTEH has spliced the edited episodic and unedited movie versions together to recreate the original length of the episode.
Sun 8:25PM PST Pyramids of Mars pt 4 of 4
Sun 9:02PM PST Genesis of the Daleks pt 5 of 6
Sun 9:39PM PST The Talons of Weng-Chiang pt 2 of 6
Sun 10:16PM PST City of Death pt 4 of 4
This episode has also been reconstructed by KTEH, and this version first aired on KTEH in 2001.