Last updated 02 January 2017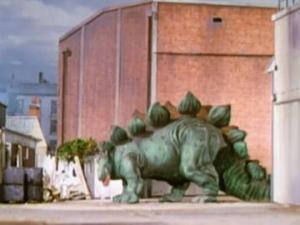 Broadcast: Sunday 20th October 2002
11:25pm-11:50pm PDT
(06:25 GMT)
<
>
«
»
KQED Plus
Featuring: Jon Pertwee, Nicholas Courtney, Elisabeth Sladen, Richard Franklin, Martin Jarvis, John Levene, Peter Miles
The Doctor plans to capture a dinosaur so he can discover who is transporting them through time. But Mike Yates is in league with the enemy and is ordered to stop the Doctor.
Synopsis Source: Doctor Who Guide
Broadcast Source: TWiDW
Report from the This Week in Doctor Who Archive:
Wednesday 16th October 2002:
KTEH/KCAH San Jose/Watsonville, CA
http://www.kteh.org
analog 54,25
digital (50),(58) - under construction
DirecTV 54,903
Sun 11PM PDT Invasion pt 1 of 6 (black & white)
Sun 11:30PM PDT Invasion of the Dinosaurs pt 2 of 6
To keep the suspense about the main monsters in the story, the first episode was only titled
Invasion
. Unfortunately, someone then managed to lose the color version. A black & white version of the episode mysteriously popped up in 1983. In the past stations have frequently aired this story without the first episode, with the episode numbers changed to cover up its absence.