Last updated 02 January 2017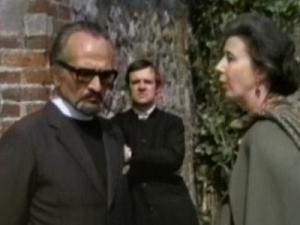 Broadcast: Sunday 9th December 2001
~8:00pm-8:25pm PST
(~04:00 GMT)
<
>
«
»
KQED Plus
Featuring: Jon Pertwee, Nicholas Courtney, Katy Manning, Roger Delgado, Richard Franklin, Damaris Hayman, John Levene
The Doctor tries to prevent Professor Horner from breaking into an ancient barrow near the village of Devil's End. Posing as the village vicar, the Master summons dark forces.
Synopsis Source: Doctor Who Guide
---
Broadcast notes:
Timing approximate as part of a pledge evening (8:00-11:00pm).
Broadcast Source: TWiDW
Report from the This Week in Doctor Who Archive:
Friday 7th December 2001:
KTEH 54 San Jose, CA
http://www.kteh.org/
Sun 8-11PM PST The Dæmons all 5 eps
Color version.
The 3rd Doctor, Jo Grant, Brigadier Lethbridge-Stewart, Sgt. Benton, and Yates team up with a White Witch to deal with The Master (
Roger Delgado
) and a Daemon. The Master has set up shop at Devil's End, and wacky witchcraft is afoot.
This was the first story restored to color by combining an off-air color recording with a black & white PAL master copy. Episode 4 is the original color version. It's pledge time.
Sun 11PM PST -
Doctor Who
not airing in regular spot. Doo Wop special airing here.
Pre-empted next week. Next episodes December 23.