Last updated 02 January 2017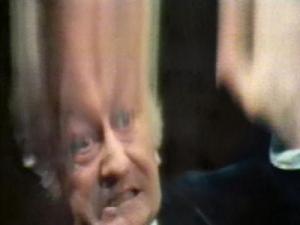 Broadcast: Sunday 9th September 2001
11:00pm-11:25pm PDT
(06:00 GMT)
«
»
KQED Plus
Featuring: Jon Pertwee, Nicholas Courtney, Caroline John, Christopher Benjamin, John Levene, Derek Newark, Olaf Pooley
UNIT are at a project run by Professor Stahlman who plans to penetrate Earth's crust. But the drilling has already released something deadly from beneath the planet's surface.
Synopsis Source: Doctor Who Guide
Broadcast Source: TWiDW
Report from the This Week in Doctor Who Archive:
Friday 7th September 2001:
KTEH 54 San Jose, CA
http://www.kteh.org/
Sun 11PM Inferno eps 1+2 of 7
All has been quiet on the UNIT front. No alien invasions. No horrific threats. Just helping out in a tedious project to extract energy from the core of the Earth (so that's where the Daleks got the idea - they read Stahlmann's notes!). So the Doctor engages in a secret plan to fix the console of his TARDIS, to enable him to travel in Time and Space again. The plan goes horribly wrong.