Last updated 02 January 2017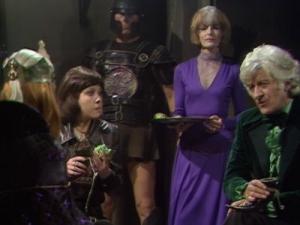 Broadcast: Thursday 23rd July 1992
~7:30pm PDT
(~02:30 GMT)
<
>
«
»
KQED Plus
Featuring: Jon Pertwee, Elisabeth Sladen, Frank Gatliff, Donald Gee, Rex Robinson, Nina Thomas, Ralph Watson
Desperate to avoid a revolt from the miners,the Doctor attempts to expose the fraud of Aggedor's ghost. Alpha Centauri has summoned Federation troops, but whose side are they on?
Synopsis Source: Doctor Who Guide
---
Broadcast notes:
BroaDWcast had no time listed for either this episode or Invasion of the Dinosaurs: Part Five; it is assumed they followed each other in the usual time slot.
Broadcast Source: BroaDWcast