Last updated 02 January 2017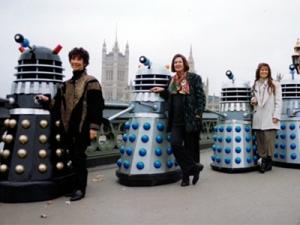 Broadcast: Friday 1st June 2001
2:00pm-2:50pm CDT
(19:00 GMT)
<
>
«
»
Lakeshore Public Television
Featuring: Colin Baker, Nicola Bryant, Nicholas Courtney, Terrance Dicks, Philip Hinchcliffe, Frazer Hines, Barry Letts, Sylvester McCoy, Jon Pertwee, Elisabeth Sladen, Deborah Watling, Michael Wisher
Broadcast Source: TWiDW
Report from the This Week in Doctor Who Archive:
Friday 1st June 2001:
WYIN 56 Gary, IN
(Chicago, IL)
http://www.wyin.org/
Fri Noon-2PM, Sat 9:05-11:30PM CDT Robot all 4 eps
Newly regenerated, the 4th Doctor is called upon to stop a criminal organization that is stealing the means to blackmail the Earth. Sarah, on the other hand, discovers that robots can have feelings.
Fri 2PM CDT 30 Years In The TARDIS 1993 documentary - 50 minutes
To celebrate the 30th anniversary of
Doctor Who
, the BBC made this documentary (later expanded to 90 minutes and released on video). Classic clips, interviews, and a look back at the sci-fi series.
Sat 11:30PM CDT "to be announced" unknown if a

Doctor Who

broadcast or not
Sun 7-9PM, Mon 3-5PM CDT The Invisible Enemy all 4 eps
K9's first installment. The Doctor's mind is taken over by a parasite, leaving Leela to get him treatment. Needless to say the Doctor's been taken over by the brain of the parasite, who plans to conquer all of humanity, and maybe time and space as well.
Mon 5PM CDT Doctor Who's Who's Who 1985 documentary - 60 minutes
One of the earliest US
Doctor Who
documentaries, produced just as the BBC halted the series for 18 months for retooling.
Tom Baker
,
Peter Davison
,
Colin Baker
,
Jon Pertwee
,
Matthew Waterhouse
,
John Nathan-Turner
,
Louise Jameson
,
Mary Tamm
, George Takei (Star Trek), and Issac Asimov (sci-fi author) all did interviews for this special.