Last updated 02 January 2017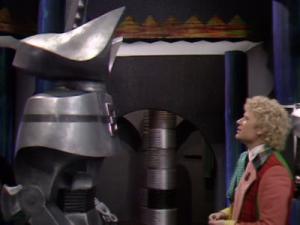 Broadcast: Sunday 14th July 2002
12:00am-12:25am CDT
(05:00 GMT)
<
>
«
»
Iowa Public TV
Featuring: Colin Baker, Nicola Bryant, Lynda Bellingham, Tom Chadbon, Michael Jayston, Tony Selby, Joan Sims
The Doctor is foxed by Drathro's logic so it takes Glitz's blunt lies to buy them some time until Ravolox can be saved. Meanwhile the Tribe make a foolhardly attack on Marb Arch.
Synopsis Source: Doctor Who Guide
Broadcast Source: TWiDW
Report from the This Week in Doctor Who Archive:
Wednesday 10th July 2002:
IPTV Iowa 11,12,21,24,27,32,32,36
http://www.sffn.com
http://www.iptv.org
digital 50
Sat 11:35PM CDT The Trial Of A Time Lord pts 3+4 of 14 (The Mysterious Planet pts 3+4)
The Tribe of the Free decides to liberate the dwellers in the Caves from Drathro, the powerful robot - whether they like it or not. And the Time Lords want to blame the Doctor for this. Now really, people. Revolution is a fact of human life. Thomas Jefferson wrote that "A little Revolution now and then is a good thing". Then again - Time Lords don't seem interested in the opinions of Americans.