Last updated 02 January 2017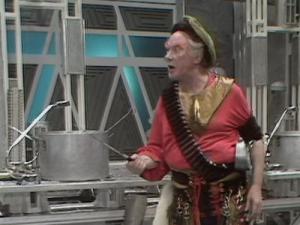 Broadcast: Saturday 18th May 2002
11:35pm-12:00am CDT
(04:35 GMT)
<
>
«
»
Iowa Public TV
Featuring: Colin Baker, Patrick Troughton, Nicola Bryant, Frazer Hines, Laurence Payne, Jacqueline Pearce, James Saxon, John Stratton
The Second Doctor and Jamie visit space station Camera to speak to the scientist Dastari, but the station has a saboteur aboard - Chessene is working with the Sontarans...
Synopsis Source: Doctor Who Guide
Broadcast Source: TWiDW
Report from the This Week in Doctor Who Archive:
Friday 17th May 2002:
IPTV Iowa 11,12,21,24,27,32,32,36
www.sffn.com www.iptv.org
digital 50
Sat 11:35PM CDT The Two Doctors 6 pt version, pts 1+2
When the 2nd Doctor and Jamie are ambushed and disappear while investigating time experiments, the 6th Doctor and Peri are drawn to investigate.
Patrick Troughton
begins his final appearance as the Doctor, while
Frazer Hines
returns as Jamie. Do not adjust your set - the first minute or so of the first episode is in black & white, even though they are using the
current
TARDIS console.