Last updated 02 January 2017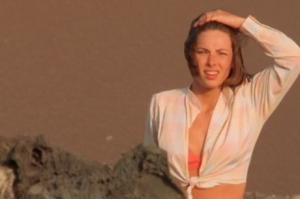 Broadcast: Sunday 24th February 2002
12:00am-12:25am CST
(06:00 GMT)
<
>
«
»
Iowa Public TV
Featuring: Peter Davison, Nicola Bryant, Mark Strickson, Dallas Adams, Anthony Ainley, Gerald Flood, Edward Highmore, Peter Wyngarde
Kamelion has taken the TARDIS to Sarn and is trying to locate his master, while the Doctor explores the mystery of the Misos Triangle - much to Turlough's consternation…
Synopsis Source: Doctor Who Guide
Broadcast Source: TWiDW
Report from the This Week in Doctor Who Archive:
Friday 22nd February 2002:
IPTV Iowa
http://www.sffn.com/
http://www.iptv.org/
analog 11,12,21,24,27,32,32,36 digital KDIN-DT 50 Des Moines, IA
Sat 11:35PM CST Planet of Fire all 4 pts
Special night. All 4 parts of this story are airing, so The Caves of Androzani can air as a pledge special next week.
Turlough fears the 5th Doctor will learn the secrets behind his mysterious past and why he was exiled to Earth. Peri, an American teenager, comes across an artefact with a symbol which matches the symbol of power on a primitive planet. And an old enemy takes control of Kamelion, turning the befuddled robot into a dangerous madman who looks suspiciously like Peri's father.