Last updated 02 January 2017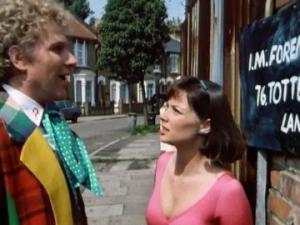 Broadcast: Saturday 31st August 2002
1:00am-1:30am MDT
(07:00 GMT)
<
>
«
»
Colorado Public Television
Featuring: Colin Baker, Nicola Bryant, David Banks, Maurice Colbourne, Brian Glover, Michael Kilgarriff
The Cybermen are hiding in the London sewers and turning humans into cybernetic slaves. On Telos, two slaves make a bid of freedom and find a way to escape the planet for good.
Synopsis Source: Doctor Who Guide
Broadcast Source: TWIDW
Report from the This Week in Doctor Who Archive:
Wednesday 28th August 2002:
KBDI/K32EO 12,32 Denver/Colorado Springs, CO
http://www.kbdi.org
DirecTV 12,910 Dish 8211,12
Late Fri 12:30AM MDT Attack of the Cybermen 4 pt version, all 4 pts
The 6th Doctor and Peri respond to a distress call on Earth, bringing them into a Cyber-plot to save Mondas from destruction and the machinations of Lytton, a human who the Doctor fought once before in a Dalek story. But things are not always what they seem. In this story, the Doctor finally fixes the Chameleon Circuit, with unexpected comic results.
Sat 11:10PM MDT The Two Doctors 6 pt version, pt 1+2
If we believe KBDI's website, they have found a way around the usual PBS error of airing
The Two Doctors
out of order, just before
The Mark of the Rani
when it should be just after
The Mark Of The Rani
. The solution - air it even earlier, before
Vengeance on Varos
.
Vengenace On Varos
is now listed as the story
after
this one in KBDI's airings. Either way, it's Saturday night with the 6th Doctor.