Last updated 02 January 2017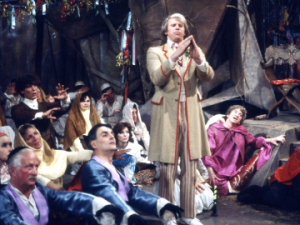 Broadcast: Saturday 26th January 2002
1:00am-1:30am MST
(08:00 GMT)
<
>
«
»
Colorado Public Television
Featuring: Peter Davison, Janet Fielding, Sarah Sutton, Martin Clunes, Colette O'Neil
As Tegan tries to rid her mind of the Mara forever, the Doctor learns about the Little Mind's Eye crystal, while coping with the local politics of the Federator...
Synopsis Source: Doctor Who Guide
Broadcast Source: TWIDW
Report from the This Week in Doctor Who Archive:
Friday 25th January 2002:
KBDI/K32EO 12,32 Denver/Colorado Springs, CO
http://www.kbdi.org/
DirecTV Denver Local 910/12
Dish Network Denver Local 8211
Late Fri 12:30AM MST Snakedance eps 1+2 of 4
Sat 11PM MST Snakedance eps 3+4 of 4
The 5th Doctor faces a deadly sequel. The Mara, long thought destroyed, finds a way to take over Tegan's mind again. It hopes to use a festival on its homeworld to re-enter the physical world and begin a reign of terror. And this time, the Mara appears to actually have a coherent plan for carrying out its return.