Last updated 02 January 2017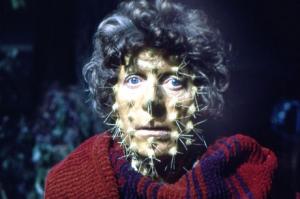 Broadcast: Saturday 28th April 2001
1:45am-2:10am MDT
(07:45 GMT)
<
>
«
»
Colorado Public Television
Featuring: Tom Baker, John Leeson, Lalla Ward, Bill Fraser, Jacqueline Hill
The Doctor must convince the Tigellans of his innocence if he is to prevent Meglos from using the dodecahedron to destroy their world.
Synopsis Source: Doctor Who Guide
Broadcast Source: TWIDW
Report from the This Week in Doctor Who Archive:
Friday 27th April 2001:
KBDI/K32EO 12,32 Denver/Colorado Springs, CO
http://www.kbdi.org/
Late Fri 12:30AM MDT Meglos all 4 eps
Note - based on the May schedule, it looks like KBDI will now air complete reruns of stories every second Friday. The last of the Zolfa-Thurans impersonates the Doctor in a daring scheme to steal a Dodecahedron that can repower his world, at the expense of another planet.
Sat 11PM MDT Full Circle eps 1+2 of 4
Note new later Saturday time. The TARDIS is sucked through a CVE into another universe, where all the knowledge and sensors in the TARDIS are meaningless, and little is as it seems.