Last updated 02 January 2017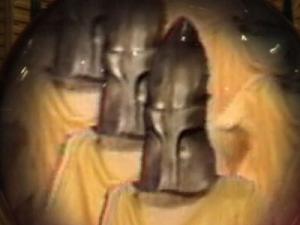 Broadcast: Saturday 14th April 2001
12:55am-1:20am MDT
(06:55 GMT)
<
>
«
»
Colorado Public Television
Featuring: Tom Baker, Lalla Ward, Adrienne Corri, David Haig, Nigel Lambert
The obsessed Pangol is determined to give Argolis a future with himself as the leader of the reborn race. He plans to strike back at the Foamasi.
Synopsis Source: Doctor Who Guide
Broadcast Source: TWIDW
Report from the This Week in Doctor Who Archive:
Friday 13th April 2001:
KBDI/K32EO 12,32 Denver/Colorado Springs, CO
http://www.kbdi.org/
Late Fri 12:30AM MDT The Leisure Hive eps 3+4 of 4
The experiment goes awry, leaving the Doctor centuries older and in deep depression. Meanwhile, Pangol engages in very shifty behavior. Very bad timing, as he will be the leader when Mena dies. And Mena's time is running out.
Sat 10PM MDT Meglos all 4 eps
Next episodes air April 27th. Meglos' personal log: "Have hired low- grade thugs. A humanoid will be supplied for bonding. Now, I must find out how to create a Chronic Hysteresis to trap the Doctor in time, enabling me to steal his body and use it for my Master Plan. One glitch - I'm a cactus. No hands. Still, I'll work out something."