Last updated 02 January 2017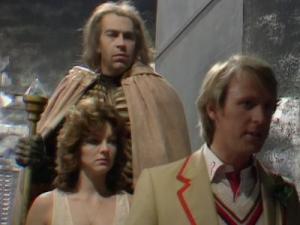 Broadcast: Saturday 9th June 2001
1:00am-1:30am CEST
(23:00 GMT)
«
»
BBC Entertainment (Europe)
Featuring: Peter Davison, Janet Fielding, Mark Strickson, Sarah Sutton, Andrew Burt, Valentine Dyall, Liza Goddard, Dominic Guard
The Garm and the pirates stop Terminus setting off a second Big Bang, while the Vanir fight between themselves for their future. Meanwhile Nyssa makes a monumental decision...
Synopsis Source: Doctor Who Guide
Broadcast Source: TWiDW
Report from the This Week in Doctor Who Archive:
Friday 8th June 2001:
BBC Prime
http://www.bbcprime.com/
Late Fri 1AM

*

, Sat 3:30PM, Sun 11:30AM CET Terminus ep 4 of 4
*Not seen in all regions.
The Black Guardian reacts badly to Turlough's persistent unwillingness to kill the Doctor. The Doctor needs the Garm's help to avert the destruction of the universe.
Late Thu 12:30AM CET Enlightenment ep 1 of 4
The White Guardian attempts to make contact with the Doctor to convince him to ... information garbled. Someone was interfering with the White Guardian's ability to transmit information. With the stakes high, the chips down, and it patently obvious that the White Guardian is nowhere near as omnipotent as previously advertised, the Doctor, Tegan, and Turlough prepare for their weirdest journey yet - on a racing yacht.