Last updated 02 January 2017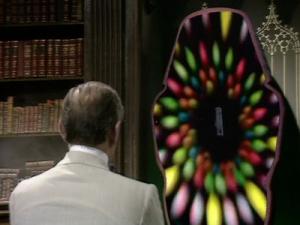 Broadcast: Tuesday 5th June 2001
5:00am-6:00am EDT
(09:00 GMT)
«
»
BBC America
(adverts during broadcast)
Featuring: Tom Baker, Elisabeth Sladen, Bernard Archard, Michael Sheard, Gabriel Woolf
As part of a plan to release Sutekh, the mummies are building a rocket to fire at the pyramid on Mars. The Doctor is resolved to destroy the rocket but is Sutekh's will too strong?
Synopsis Source: Doctor Who Guide
Broadcast Source: TWIDW
Report from the This Week in Doctor Who Archive:
Friday 1st June 2001:
BBC America
http://www.bbcamerica.com/
Mon-Thu 8AM EDT (5AM PDT)/Tue-Fri 5AM EDT (2AM PDT) - 2 episodes in movie format daily
Mon/Tue Pyramids of Mars movie, pt 2 of 2
Sutekh plans to escape from his tomb on Mars and travel through the galaxy. But surely one creature can't do that much harm? The Doctor and Sarah take a look at what could happen if Sutekh wins ...
Tue-Wed/Wed-Thu The Brain of Morbius movie, pts 1 - 2 of 2
Not too far away from Gallifrey, a scientist plots to resurrect Morbius, Time Lord genius and villain. Unless the Doctor can stop him. But then again, the scientist is hoping for the Doctor's help. Or at least his head.
Thu/Fri The Masque of Mandragora movie, pt 1 of 2
An alien ball of hate sticks out its towel and hitches a lift to Earth on board the TARDIS. Once on Earth, it's evil plans can begin, and people begin to die.