Last updated 02 January 2017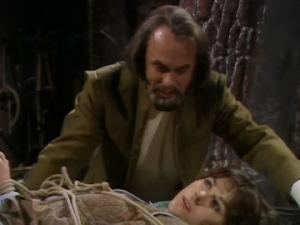 Broadcast: Wednesday 18th April 2001
5:00am-6:00am EDT
(09:00 GMT)
«
»
BBC America
(adverts during broadcast)
Featuring: Tom Baker, Elisabeth Sladen, Cynthia Grenville, Philip Madoc
Sarah has been blinded and the Doctor asks the Sisterhood for help. Morbius, fearful that the Time Lords have tracked him down, tells Solon to install his brain in a new body.
Synopsis Source: Doctor Who Guide
Broadcast Source: TWIDW
Report from the This Week in Doctor Who Archive:
Friday 13th April 2001:
BBC America
http://www.bbcamerica.com/
Mon-Thu 8AM EDT (5AM PDT); Tue-Fri 5AM EDT (2AM PDT) - 2 episodes in movie format daily
Mon-Tue/Tue-Wed The Brain of Morbius movie, pts 1 - 2 of 2
A scientist on a barren planet wants to build a new body for the evil Time Lord politician Morbius.
Wed-Thu/Thu-Fri The Masque of Mandragora movie, pts 1 - 2 of 2
A malevolent fire ball of hate displays a towel and hitches a lift on board the TARDIS. It travels to 15th Century Earth to conquer the planet.