Last updated 02 January 2017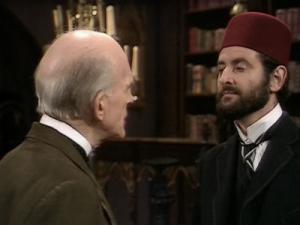 Broadcast: Thursday 12th April 2001
5:00am-6:00am EDT
(09:00 GMT)
<
>
«
»
BBC America
(adverts during broadcast)
Featuring: Tom Baker, Elisabeth Sladen, Bernard Archard, Michael Sheard
The TARDIS lands in 1911. In the grounds of the Old Priory, Egyptian mummies are walking and the Doctor and Sarah find that an ancient and powerful evil is menacing mankind.
Synopsis Source: Doctor Who Guide
Broadcast Source: TWIDW
Report from the This Week in Doctor Who Archive:
Friday 6th April 2001:
BBC America
http://www.bbcamerica.com/
Mon-Thu 8AM EDT (5AM PDT)/Tue-Fri 5AM EDT (2AM PDT) - 2 episodes daily in movie format
Mon-Tue/Tue-Wed Planet of Evil movie, pts 1 - 2 of 2
At the border between universes, a scientist has decided to "acquire" material from one realm to power the other realm. But this "anti-matter" has other ideas.
Wed-Thu/Thu-Fri Pyramids of Mars movie, pts 1 - 2 of 2
Before U*N*I*T was a top secret military organization, its headquarters was the mansion where Marcus Scarman lived. Now, Marcus has been taken over by the mind of Sutekh the Destroyer. To save the world, the Doctor must destroy him. But will the mansion approve?