Last updated 02 January 2017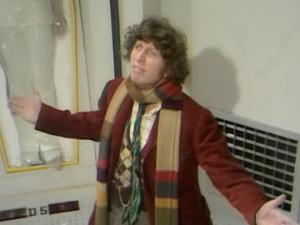 Broadcast: Tuesday 20th March 2001
8:00am-9:00am EST
(13:00 GMT)
<
>
«
»
BBC America
(adverts during broadcast)
Featuring: Tom Baker, Ian Marter, Elisabeth Sladen
The TARDIS arrives in the far future on the Ark space station where mankind's survivors are in hibernation. Sarah is accidentally placed in suspended animation.
Synopsis Source: Doctor Who Guide
Broadcast Source: TWIDW
Report from the This Week in Doctor Who Archive:
Friday 16th March 2001:
BBC America
http://www.bbcamerica.com/
Mon-Thu 8AM EST (5AM PST)/Tue-Fri 5AM EST (2AM PST) - 2 eps in movie format daily
Mon-Tue/Tue-Wed The Ark In Space movie, pts 1 - 2 of 2
Harry Sullivan's first trip through time takes him to Space Station Nerva, where the survivors of humanity dream oblivion, while a species of intergalactic wasps prepare to make a nice dinner out of them.
Wed-Thu/Thu-Fri The Android Invasion movie, pts 1 - 2 of 2
BBC America's confused episode order sends them to Harry Sullivan's last story, after he has left the TARDIS crew. The Doctor and Sarah find him when they return to Earth. But Harry, like all the other humans, is acting very strangely. More alien than the Doctor, as if that was possible.
» it was later reported that the episodes were awry: should have been Robot 3-4, The Ark In Space 1-4, and The Android Invasion 1-2