Last updated 01 February 2017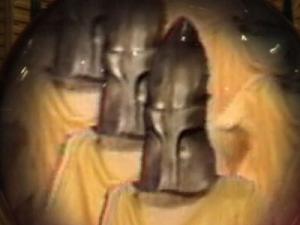 Broadcast: Saturday 15th December 2001
11:00pm-11:25pm EST
(04:00 GMT)
<
>
«
»
WCET
Featuring: Tom Baker, Lalla Ward, Adrienne Corri, David Haig, Nigel Lambert
The obsessed Pangol is determined to give Argolis a future with himself as the leader of the reborn race. He plans to strike back at the Foamasi.
Synopsis Source: Doctor Who Guide
Broadcast Source: TWiDW
Report from the This Week in Doctor Who Archive:
Friday 14th December 2001:
WCET 48 Cincinnati, OH
http://www.wcet.org/
Dish Network channel 8356 effective 1/1/02
Sat 11PM EST The Leisure Hive ep 4 of 4
An army of Pangols prepares to conquer the galaxy. But someone forgot to tell Pangol something before he got himself copied. With Tom Baker as the 4th Doctor.
Sat 11:30PM EST Meglos ep 1 of 4
The 4th Doctor and Romana find themselves reliving the same minute of time - with no apparent way out.