Last updated 02 January 2017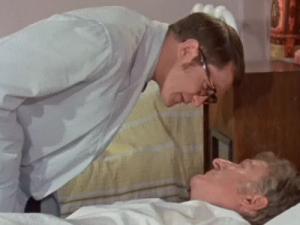 Broadcast: Saturday 2nd December 2000
10:00pm-12:40am CST
(04:00 GMT)
>
»
KERA
Featuring: Jon Pertwee, Nicholas Courtney, Caroline John, Hugh Burden
The TARDIS takes the newly regenerated Doctor to Earth to begin his exile. Brigadier Lethbridge-Stewart leads a UNIT investigation into a mysterious meteorite shower.
Synopsis Source: Doctor Who Guide
Broadcast Source: KERA
Report from the This Week in Doctor Who Archive:
Friday 1st December 2000:
***New Station***
KERA 13 Dallas, TX
http://www.kera.org/
Sat 10PM-12:40AM CST Spearhead From Space all 4 eps
Unusual meteor showers draw the attention of U*N*I*T, a taskforce headed by Brigadier Alastair Gordon Lethbridge-Stewart. U*N*I*T's attention is heightened further still when an unconscious man is found outside a Police Box in woods near the meteorites. The Brigadier must find out if this is the Doctor, a man who has helped U*N*I*T in the past, and whether the "Doctor" can help him now.
Doctor Who And The Silurians
will air as a pledge marathon on December 16. As of publication time, it is still unknown what
Doctor Who
's regular time slot will be after KERA's December pledge drive ends.
***New Station***