Last updated 02 January 2017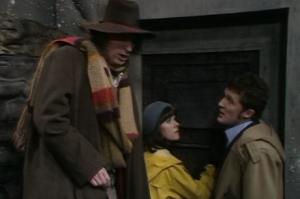 Broadcast: Saturday 3rd February 2001
11:20pm CST
(05:20 GMT)
<
>
«
»
WILL
Featuring: Tom Baker, Ian Marter, Elisabeth Sladen, Peter Miles, Michael Wisher
The Time Lords send the Doctor, Sarah and Harry to Skaro at a point in time shortly before the creation of the Daleks. The Doctor's mission is to destroy his greatest enemy.
Synopsis Source: Doctor Who Guide
Broadcast Source: TWiDW
Report from the This Week in Doctor Who Archive:
Friday 2nd February 2001:
WILL 12 Urbana, IL
http://www.will.uiuc.edu/
Sat 11:20PM CST Genesis of the Daleks ep 1 of 6
For 1000 years, the Kaleds and the Thals have waged a devastating war against each other. The two sides seem deadlocked, wearing themselves down towards eventual extinction. But then a tall man with a scarf appears with a suspicious level of knowledge about the future. Things may be about to change on Skaro.