Last updated 02 January 2017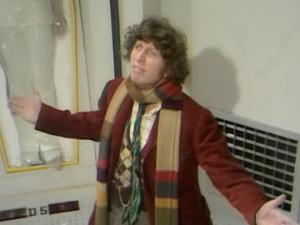 Broadcast: Saturday 23rd December 2000
11:20pm CST
(05:20 GMT)
<
>
«
»
WILL
Featuring: Tom Baker, Ian Marter, Elisabeth Sladen
The TARDIS arrives in the far future on the Ark space station where mankind's survivors are in hibernation. Sarah is accidentally placed in suspended animation.
Synopsis Source: Doctor Who Guide
Broadcast Source: TWiDW
Report from the This Week in Doctor Who Archive:
Friday 22nd December 2000:
WILL 12 Urbana, IL
http://www.will.uiuc.edu/
Sat 11:20PM CST The Ark In Space ep 1 of 4
The smallest cast of any
Doctor Who
episode ever (only the 4th Doctor, Sarah, and Harry appear). The TARDIS arrives in a powerless space beacon with dark secrets about humanity's future.