Last updated 02 January 2017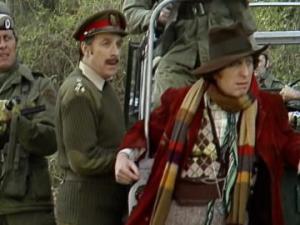 Broadcast: Friday 1st December 2000
11:20pm CST
(05:20 GMT)
«
»
WILL
Featuring: Tom Baker, Nicholas Courtney, Ian Marter, Elisabeth Sladen, Patricia Maynard
Sealed inside an underground bunker, Miss Winters issues her demands to the world's leaders, threatening a devastating nuclear strike if her demands are not met.
Synopsis Source: Doctor Who Guide
Broadcast Source: TWiDW
Report from the This Week in Doctor Who Archive:
Friday 1st December 2000:
WILL 12 Urbana, IL
http://www.will.uiuc.edu/
Sat 11:40PM CST Robot ep 3 of 4
"This is Howard DaSilva calling. Seems I forgot to pay my afterlife phone bill and I'm about to be cut off until the 16th, when WILL airs episode 4 of Robot. If I get knocked off, I guess I'll have to give both episodes 3 and 4 then. But I'll try to get the description out before I get cut off-"
(connection lost)