Last updated 02 January 2017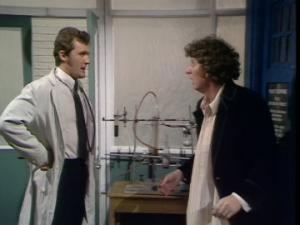 Broadcast: Friday 17th November 2000
11:20pm CST
(05:20 GMT)
«
»
WILL
Featuring: Tom Baker, Nicholas Courtney, Ian Marter, Elisabeth Sladen, Patricia Maynard
UNIT are called in when top secret plans and valuable equipment is stolen from high security establishments. The newly regenerated Doctor suggests that the thief may not be human.
Synopsis Source: Doctor Who Guide
Broadcast Source: TWiDW
Report from the This Week in Doctor Who Archive:
Friday 17th November 2000:
*NEW STATION*
WILL 12 Urbana, IL
http://www.will.uiuc.edu/
Sat 11:20PM CST Robot ep 1 of 4
"DOCTOR WHO'S FACE IS TRANSFORMED AS HIS FRIENDS WATCH.. INSTANT PLASTIC SURGERY.. THE TIME LORD ON THE BRINK OF DEATH IS SELF- INDUCING A COMPLETE PHYSICAL METAMORPHOSIS.... RECENTLY RETURNED FROM A DISTANT PLANET..WHERE HE WAS EXPOSED TO DEADLY RADIOACTIVITY.. DR. WHO ENTERS INTO HIS FOURTH INCARNATION.. THUS SAVING HIS OWN LIFE, BUT HIS NEW PERSONALITY IS ERRATIC AND STILL IN TRANSITION.. SO THE BRIGADIER HAS NO ALTERNATIVE, BUT TO PLACE HIM IN THE CARE OF A MERE EARTH DOCTOR..... STILL DISORIENTED..THE DOCTOR SLIP OUT OF THE INFIRMARY ...HE MUST GET BACK TO THE TARDIS - THE TIME LORDS KEY TO THE UNIVERSE AND TO ETERNITY.. THOUGH IT LOOKS LIKE AN ORDINARY POLICE CALL BOX, INSIDE IS THE COMPLICATED INSTRUMENT PANEL OF TIME AND SPACE TRAVEL.. ALLOWING THE DOCTOR TO SWITCH REALITIES WITH THE FLICK OF A DIAL...."
- adapted from Howard DaSilva's narration in 1978.
*NEW STATION*