Last updated 02 January 2017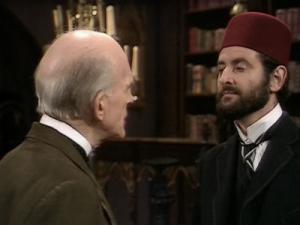 Broadcast: Wednesday 14th February 2001
5:00am-6:00am EST
(10:00 GMT)
«
»
BBC America
(adverts during broadcast)
Featuring: Tom Baker, Elisabeth Sladen, Bernard Archard, Michael Sheard
The TARDIS lands in 1911. In the grounds of the Old Priory, Egyptian mummies are walking and the Doctor and Sarah find that an ancient and powerful evil is menacing mankind.
Synopsis Source: Doctor Who Guide
Broadcast Source: TWIDW
Report from the This Week in Doctor Who Archive:
Friday 9th February 2001:
BBC America
http://www.bbcamerica.com/
Mon-Thu 8AM EST (5AM PST); reruns following weekday 5AM EST (2AM PST) - 2 episodes daily in movie format
Mon/Tue Planet of Evil movie, pt 2 of 2
Professor Sorenson hides anti-matter on board the Morestran ship, resulting in furious retribution from the anti-matter planet.
Tue-Wed/Wed-Thu Pyramids of Mars movie, both pts
Another attempt to return to London in 1980 gets the Doctor and Sarah a tad closer - 1911. Seems some archaeologist has accidentally unleashed robotic mummies from a pyramid and is now being forced to return a super-powerful evil to the Earth. Again. What is it with Egyptian tombs, robotic mummies, and ancient evils? How did they all have enough work to get paid?
Thu/Fri The Brain of Morbius movie, pt 1 of 2
Karn. A desolate rock of a planet, not too far away from Gallifrey. A scientist toils away in secrecy, protected from notice by a Sisterhood that destroys any aliens who visit.