Last updated 02 January 2017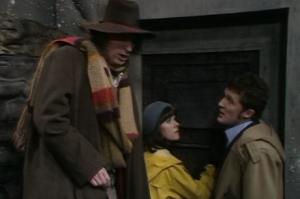 Broadcast: Wednesday 24th January 2001
8:00am-9:00am EST
(13:00 GMT)
<
>
«
»
BBC America
(adverts during broadcast)
Featuring: Tom Baker, Ian Marter, Elisabeth Sladen, Peter Miles, Michael Wisher
The Time Lords send the Doctor, Sarah and Harry to Skaro at a point in time shortly before the creation of the Daleks. The Doctor's mission is to destroy his greatest enemy.
Synopsis Source: Doctor Who Guide
Broadcast Source: TWIDW
Report from the This Week in Doctor Who Archive:
Friday 19th January 2001:
BBC America
http://www.bbcamerica.com/
Mon-Thu 8AM EST (5AM PST); Reruns following weekdays 5AM EST (2AM PST) - 2 episodes per day, edited into movie format
Mon-Tue/Tue-Wed The Ark In Space movie, both parts
While humanity was sleeping, an insect came aboard. A hungry insect. Now its descendants are hungry again.
Wed-Thu/Thu-Fri Genesis of the Daleks movie, parts 1+2 of 3
As Davros puts the finishing touches on his Mark III Travel Machine design, a Kaled scientist begins to suspect that Davros has more sinister motives than just protecting their species. Does a strange, curly-haired prisoner hold the answers for how to deal with a beloved leader that has lost his way?