Last updated 02 January 2017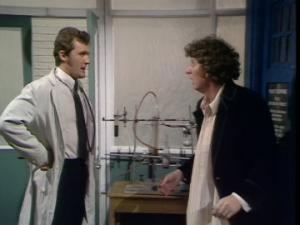 Broadcast: Thursday 18th January 2001
5:00am-6:00am EST
(10:00 GMT)
<
>
«
»
BBC America
(adverts during broadcast)
Featuring: Tom Baker, Nicholas Courtney, Ian Marter, Elisabeth Sladen, Patricia Maynard
UNIT are called in when top secret plans and valuable equipment is stolen from high security establishments. The newly regenerated Doctor suggests that the thief may not be human.
Synopsis Source: Doctor Who Guide
Broadcast Source: TWIDW
Report from the This Week in Doctor Who Archive:
Friday 12th January 2001:
BBC America
http://www.bbcamerica.com/
Mon-Thu 8AM EST (5AM PST); following weekday 5AM EST (2AM PST) - 2 episodes edited into movie format daily
Mon-Tue/Tue-Wed Revenge of the Cybermen both segments
The 4th Doctor, Sarah, and Harry arrive on Nerva Beacon millennia before they left. While they wait for the TARDIS to show up, a sinister "plague" kills the humans on the beacon, and some old foes in a rusty spacecraft approach from a distance.
Wed-Thu/Thu-Fri Robot both segments
BBC America cycles back to the 1st
Tom Baker
story. The Doctor's efforts to establish his new personality after a regeneration are put on hold by a series of thefts of military equipment and plans - precisely the materials necessary to build a powerful weapon and launch other countries' nuclear weapons.