Last updated 02 January 2017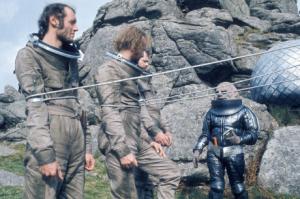 Broadcast: Thursday 11th January 2001
8:00am-9:00am EST
(13:00 GMT)
«
»
BBC America
(adverts during broadcast)
Featuring: Tom Baker, Ian Marter, Elisabeth Sladen, Kevin Lindsay
The Doctor, Harry and Sarah find Earth is a desolate wilderness. They meet a group of stranded human colonists who are being hunted by a robot and experimented upon by its master.
Synopsis Source: Doctor Who Guide
Broadcast Source: TWIDW
Report from the This Week in Doctor Who Archive:
Friday 5th January 2001:
BBC America
http://www.bbcamerica.com/
Mon-Thu 8AM EST (5AM PST); reruns next day 5AM EST (2AM PST) - 2 episodes per day
Mon/Tue The Seeds of Doom eps 5+6 of 6
Thanks to the efforts of the twisted Harrison Chase, the Krynoid is alive, well, and threatening to take mental control of all the plants on Earth. This is a bad day for Vegetarians.
Tue-Wed/Wed-Thu The Face of Evil eps 1 - 4 of 4
The 4th Doctor discovers a world where various aspects of him are worshiped as a god while other parts are feared as a demon. Seems he did something very stupid in the past.
Thu/Fri The Sontaran Experiment both eps
See
UKTV Australia
for story details.