Last updated 02 January 2017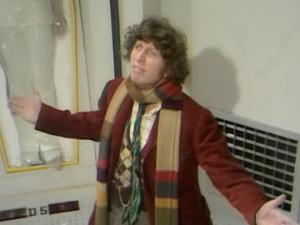 Broadcast: Thursday 23rd November 2000
8:00am-9:00am EST
(13:00 GMT)
«
»
BBC America
(adverts during broadcast)
Featuring: Tom Baker, Ian Marter, Elisabeth Sladen
The TARDIS arrives in the far future on the Ark space station where mankind's survivors are in hibernation. Sarah is accidentally placed in suspended animation.
Synopsis Source: Doctor Who Guide
Broadcast Source: TWIDW
Report from the This Week in Doctor Who Archive:
Friday 17th November 2000:
BBC America
http://www.bbcamerica.com/
Mon-Thu 8AM EST/5AM PST; reruns following weekday 5AM EST/2AM PST
(Friday rerun pre-empted by special programming) - 2 episodes daily
Mon/Tue Revenge of the Cybermen eps 3+4 of 4
The Nerva story arc ends as the Doctor, Sarah, and Harry work to defeat a plot by the Cybermen to blow up Voga, the planet of gold.
Tue-Wed/Wed-Thu Robot eps 1 - 4 of 4
Newly regenerated, the 4th Doctor is called upon to help U*N*I*T figure out who is stealing secret military plans and equipment. Personally, I thought the Viking outfit could have worked well for him.
Thu only The Ark In Space eps 1+2 of 4
Before you reheat the turkey for Thanksgiving dinner, celebrate
Doctor Who
's 37th anniversary by seeing the first portion of the Nerva story arc. The TARDIS arrives on a space station where the survivors of humanity sleep waiting for a message that is not coming.