Last updated 02 January 2017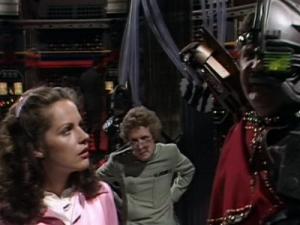 Broadcast: Sunday 31st December 2000
12:00am-12:30am EST
(05:00 GMT)
<
>
«
»
WQED
Featuring: Tom Baker, John Leeson, Mary Tamm, Bruce Purchase, Andrew Robertson
Still in search of the missing planet, Calufrax, the Doctor and Romana encounter the telepathic Mentiads and Zanak's ruler, the half man, half robot Captain.
Synopsis Source: Doctor Who Guide
Broadcast Source: TWIDW
Report from the This Week in Doctor Who Archive:
Friday 29th December 2000:
WQED/WQEX 13,16 Pittsburgh, PA
http://www.wqed.org/
Sat 11:30PM EST The Pirate Planet eps 1+2 of 4
The search for the 2nd segment of the Key To Time leads the TARDIS to exactly the right place at exactly the right time - but the wrong planet. A good chance to lure in non-fans to watch the show, as this story is written by Douglas Adams, and roads may be closed by snow.