Last updated 02 January 2017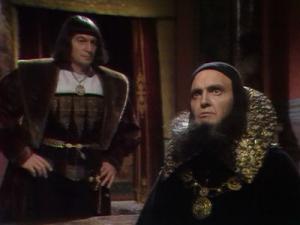 Broadcast: Saturday 30th December 2000
11:00pm MST
(06:00 GMT)
<
>
«
»
KUED
Featuring: Tom Baker, Elisabeth Sladen, Gareth Armstrong, Tim Pigott-Smith
Tempted by the promises of ultimate power offered by Mandragora, Hieronymous plots to eliminate the threat posed by the Doctor and uses an unwitting Sarah as his weapon.
Synopsis Source: Doctor Who Guide
Broadcast Source: TWiDW
Reports from the This Week in Doctor Who Archive:
---
Friday 29th December 2000:
KUED 7 Salt Lake City, UT
http://www.kued.org/
Sat 11PM, Late Sat 12:30AM MST The Masque of Mandragora ep 3 of 4
The comedic second banana villain. The spice that relieves the tension caused by the main villain. The colorful character who you always feel sad had to join in the defeat. But what if such a villain could rise above his station, overpower the main villain, and endanger the entire world. This is his story.